·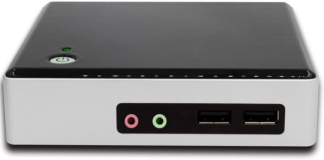 Share zero client FL500W is a specialized solution and endpoint for accessing Windows MultiPoint Server 2012™ or Userful MultiSeat ™ Linux . The solution enables a host server to power multiple and independent stations. Each station only consists of one station hub (zero client) with a keyboard, mouse, and monitor connected, allowing multiple users to share the computing power of one single server. Simply through an Ethernet connection, the server provides each station user with a familiar and independent Windows experience.
Share zero client FL500W is designed specifically for Microsoft Window Multipoint Server 2012. Simply connect it to an available USB or LAN port on the server and attach a monitor, keyboard, and mouse to add a new workstation. The device features USB2.0 ports, speaker and microphone ports, and a VGA port that support resolutions up to 1920x1080. It can be add up to 10 workstation per server.
Share Technology partnership with Microsoft is aimed at providing government, education, call centers, and other institutions a low cost multiuser configuration while still providing the end users with a genuine Windows experience. By sharing a single server with multiple users through Share workstations, organizations can reduce costs on hardware, software licensing, power, and administration costs.
Share Multipoint Workstation FL500W leverage new Microsoft Windows Server 2012 technology, Providing Plug-and-Play USB and GIGA-LAN Solution that transforms single computers into Multiuser Workstation, and turn it into a distance free Zero Client device.
FL500 powers WMS2012 system in full features allowing one computer to serve up to 10 workstations without adding 2nd computer or any excess graphic card, great for cost saving.
Low Total Cost of Ownership
The price of FL500W is only a fraction of the cost for the traditional PC system. The zero client product consumes less than 10% percent of a traditional PC system's energy consumption which means more savings on the utility bill.
Minimal Management Effort
With multiple users' desktops being powered by a single Host server, all the management operations, such as user account control, software installation and upgrade, are all centralized on the Host system. With each Host supporting up to 20 clients (WMS 2012) or more (WMS 2016), the system administrator needs to service only 1 Host machine per 20 or more seats. In contrast, the legacy PC setup requires the same management tasks to be performed on each and every seat.
The management software has been integrated into the MultiPoint Manager dashboard and it provides a one-glance view for all the zero clients on the network.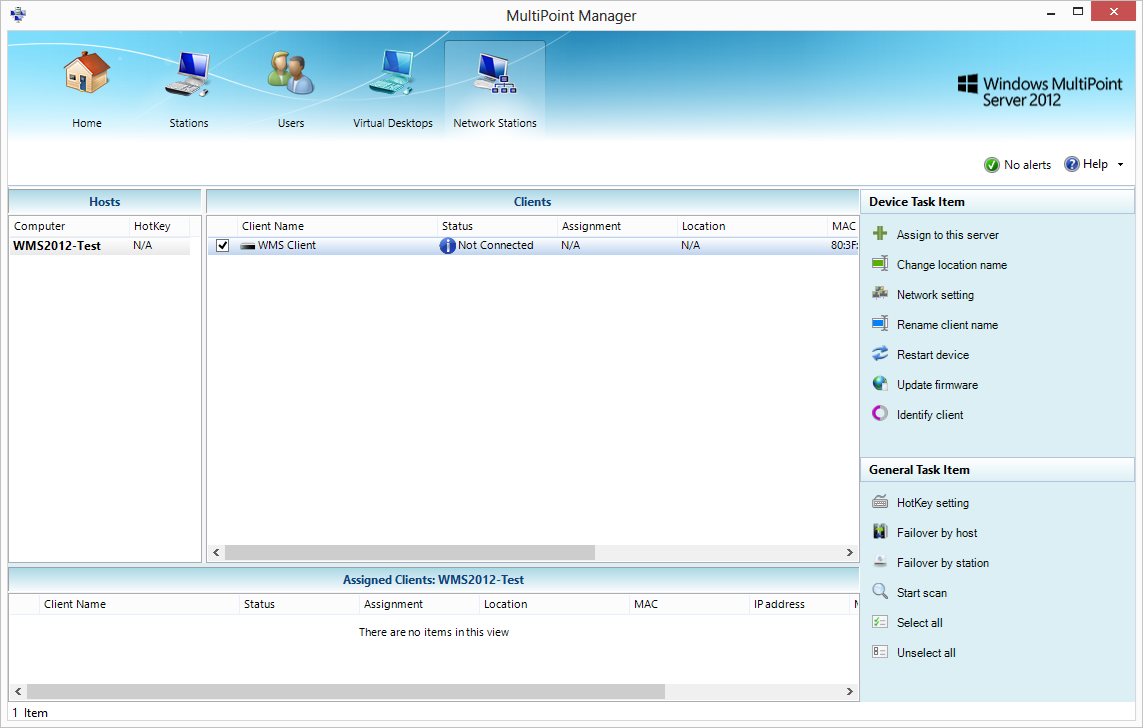 The centralized management and control features provided by this software make administrator's job easy.
Better user experience than RDP
FL500W's proprietary protocol brings excellent performance and enhanced visual and audio effect. Video playback on this zero client is much smoother and has better quality than on standard RDP thin client.
FL500W is an Eco-friendly product
FL500W's energy wastage, heat and carbon emissions during operation are greatly reduced in comparison with the regular PC system. Also, the manufacturing impact and EOL (end of life) recycling waste of the zero client is much lower than a standard PC. This makes PCL350 a much more environmental friendly product.
Ports on Real View
1/2

USB Port

7

USB Port

Connects to the USB device.

Connects to a mouse&a keyboard.

3

Microphone Port

8

LAN Port

Connects to a microphone or a digital musical instrument such as a MIDI keyboard.

Connects to a host server through a Gigabit switch.

4

Headphone Port

9

VGA Port

Connects to a headphone or a speaker system.

Connects to a monitor.

5

Power Button

10

HDMI Port

Click to power on FL500W

Connects to a HD Monitor or a TV Screen.

6

LED Light

11

DC-IN

Indicates the status of electricity supply.

Connects to an AC adaptor.
· Application Environment Configuration
Share Zero client solution FL500W aimed to save plenty of cost during daily office and other scenarios by avoiding hardware waste.Under this principle, customers are suggested to con-fig the hardware of server according to the software request. Below form shows a typical configuration on server based on different application environment.
FL500W Quantity

Application Environment

Server configuration request.

10 pcs

Common office,simple Web page,NO HD video

◆CPU:intel I3(2th Generation and above)or AMD4350

◆DDR:4G

◆SSD:500G 7200 rev/min

◆Video card :Integrated

Common office, HD video & large web page

◆CPU:inteli5 2th (Generation and above) or AMD 6330

◆DDR:8G

◆SSD:500G 7200 rev/min.

◆Video card:Integrated or entry level Discrete Graphics

20 pcs

Common office,simple Web page,NO HD video

◆CPU: Inteli5 or AMD 8300

◆DDR:16G

◆SSD:120G SSD+500G HDD

◆Video card:Integrated or entry level Discrete Graphics

Common office, HD video & large web page

◆CPU:inteli7 4690 or AMD 8350

◆DDR:16G

◆SSD:120G SSD+500G HDD

◆Video card:Integrated or entry level Discrete Graphics

50 pcs

Common office,simple Web page,NO HD video

◆CPU: Dual Intel E5-2670v2 Dual

◆DDR:32G

◆SSD:120G SSD+500G HDD

◆Video card:Integrated or entry level Discrete Graphics

Common office, HD video & large web page

◆CPU: Dual Intel E5-2670v2

◆DDR:64G

◆SSD:120G SSD+500G HDD

◆Video card:Integrated or entry level Discrete Graphics